About Founder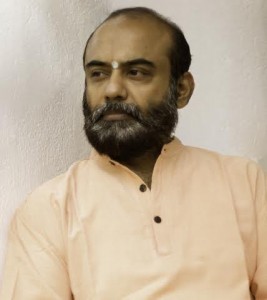 Shiva is an embodiment of virtues, values and rare qualities seldom found in today's fast paced human race. He is a powerful leader, a teacher, a visionary, and a great inspirational being all blended into one. To the tens of hundreds of people encountering him, he is nothing but a contemplative man who could impart wisdom with his impeccable yet simple approach towards experiencing life in its truest form. His teachings are straight forward and simple, bringing out a blend of spiritual, moral and material revolution.
Being an ardent practitioner of Yoga and spirituality for the past 25 years, Shiva is a very simple, yet dynamic human being with a passionate disposition, always striving hard to experience life in its truest form. His teachings are not only very unique but practical & effective and with his unusual blend of modern and a very simple cum lucid approach, he undeniably transforms anybody who comes in contact with him to experience life with an open mind. He is best known for his inspirational guidance for everyday problems in both Personal and Professional/Business life.
He hails from an affluent business family in Trichy, which naturally motivated him to initially plant his ideas and aspirations towards expanding his business empire. Shiva was into multiple successfull ventures which includes Software, Banking, Hospitality and Food industry etc. "I seemed to put my hands into everything" "he says"– but nothing interested as much as what he aspired to -dedicate his life for a societal cause. Answering to the inner call, he gradually moved towards not only experiencing truth but also spreading it to tens of hundreds of those who are desirous of seeking it.Hence, which not only guides people to live a Joyous and disease free life but also empowers individuals to realize their fullest potential.
Shiva has widely traveled many places through-out India and overseas, learning the nuances of truth and life from scholars, spiritual gurus & business exponents. Continuing his quest towards experiencing truth, he lives among the common folk, learning about their existential hurdles.
He feels this life is a great opportunity for himto share his experience with the world.
In Shiva's words
"I find that the more I am moving towards my life's fulfillment, the more my life becomes a rejoicing, a deep joy for no reason at all, a blissfulness so deep and so abundant that you can start sharing it with others. In fact, you have to share it with others because it is overflowing, and you cannot contain it.